USB Video Adapter Analog To Digital To PC

Price:

$149.00

Retail: $230.00

You Save: $81.00

This item is in stock
Intraoral Dental Camera USB Adapter
Record, Split Screen & Freeze / Capture
View, Save & Print Images Using Your PC
$260 Retail Value - Brand New Item
Note: This Item Is Normally Sold With Our Sony Intraoral Camera. We Have Listed The USB Adapter Here Separately For Those Who Have An Intraoral Camera And Want To Send The Video Output Directly To Their Computer, With The Ability To View, Freeze / Capture, Record & Print Images. Your Intraoral Camera Should Provide A Standard Analog Video Signal. The USB Adapter Has A Female RCA Connection. If Your Camera Has A BNC or S-Video Connection A Simple Plug Adapter Is All That Is Required. The Image Freeze / Capture Signal From Your Camera (or Foot Petal) Should Be A 3.5mm Pin Connection, Which Looks Much Like A Microphone Plug For A Micro Cassette Recorder.
ADUSB20 - USB Adapter With Image Capture Software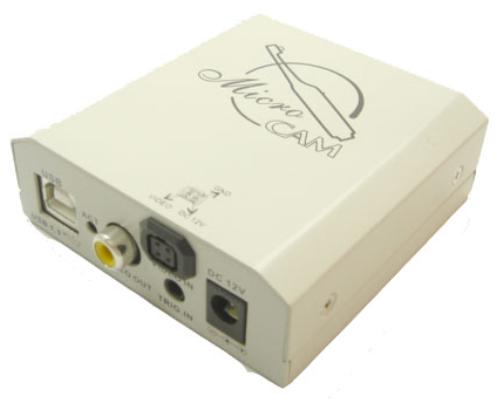 $260 Retail - Ebay Buy-It-Now Price $149
The Analog (RCA) to Digital USB 2.0 Video Adapter Can Send Video Output Directly From The Intraoral Camera To Your PC Or Laptop Via USB 2.0 Port.
You Can Toggle The Video Display From Full Screen To A 3 x 3 Grid. In The Center Grid Is The Live Video Feed From The Intraoral Camera. As You Freeze / Capture Images (Snap Pictures) They Are Displayed In The Surrounding (Eight) Picture Grids. If You Freeze More Than Eight Images, The Most Recent Eight Are Displayed. All Images Are Saved, Not Just The Eight Displayed. Use Page Back & Page Forward To See The Additional Images. The Images Can Be Saved As JPG or BMP Files. Left Click Your Mouse On Any Image To Copy, Delete Or Print.
The Live Video Feed From The Camera Can Also Be Recorded As An AVI File. Record On / Off Can Be Done With A Mouse Click Or A Double Click Of The Camera's Freeze Button.
You Can View The Images On Your Computer Monitor. Then, Simply Press The Camera's Freeze Button (Or Foot Pedal) To Freeze - Capture And Save Images To Your Hard Drive Using The Integrated Capture Software. Save The File To A Folder Using The Patient Name Or ID Number For Easy Retrieval. Distribute The Images Over Your Network Or Globally By Internet (Email Or FTP).
In Addition, A Secondary Video Monitor Can Be Attached To The Adapters "Video Out" Port (NTSC Format). This Allows You (Or The Patient) To View The Live Video Feed From The Camera During The Examination.
The Adapter Is Also Quite Versatile. It Works Equally Well With Any Analog Video Output Device To Transfer Video To PC, Including VCR, DVR, DVD, Camcorders & Your Existing Imaging Equipment.
Note: This Device Requires A USB 2.0 Port. It Will Not Work With The Older USB 1.1 Version. If Your PC Or Laptop Uses USB 1.1 Ports, Upgrade Cards Are Very Inexpensive  & Readily Available. To Determine If Your System Has USB 2.0 or 1.1, Check The Specs In Your Computer Manual Or Open "Device Manager" & Expand The Universal Serial Bus Section. There Should Be An "Enhanced" USB Host Controller Present.
E-mail a friend about this item.