Motion Activated DVR Security Video Recorder

Price:

$199.00

Retail: $270.00

You Save: $71.00

This item is in stock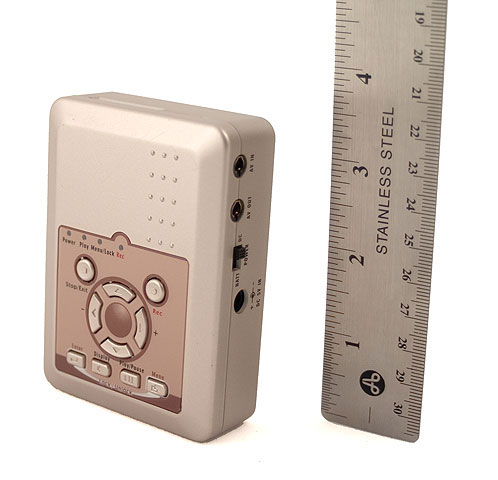 Motion Activated Mini DVR Has All The Features Of A Full Size Unit
$579 Retail - Brand New Unit
This Entire Unit Is Smaller Than Your Home DVR Remote! (2 1/2" x 3 1/2" x 1" & Only 3 Ounces ). Set Up With Any Camera & Record MP4 Audio/Video Via Motion Activation, Scheduled Recording, Scheduled / Motion Activated, Schedule Continue Or Manual.
Next Generation Motion Activation; How It Works - Way Better Than Old Fashioned PIR (Passive Infra Red). The DVR Continuously Monitors The Image From The Video Camera. When The Camera Sees Motion The DVR Is Activated. The DVR Does Not Need To "See" The Target, Only The Camera. The DVR Can Be Completely Concealed.
You Can Also Precisely Define The Motion Activation Zone So Only Motion Inside Your Designated Area Will Trigger Recording. Along With Adjustable Sensitivity, You Can Capture Everything You Want, Nothing You Don't.
Records Up To 6 Hours & 40 Minutes Per 1 GB SD (Secure Digital) Card (13 Hours & 20 Minutes On A 2 GB Card). These Tiny Economical SD Memory Cards Last Just About Forever And Can Be Reused An Unlimited Number Of Times. Supports 256 MB SD Cards & Up.
Play Back Direct To TV Or PC (With SD Memory Card Reader). Easily Transfer Video To VCR, DVD, etc. Record Ultra High Quality Video With  Resolution Up To 704 X 480 (NTSC) or 704 X 560 (PAL). NTSC / PAL Format Auto Detect Make This DVR Perfect For International Use.
The DVR Runs On AC Power Or Up To 3 Hours On 2 Rechargeable AA Ni-MH Batteries (Will Also Run On 2 Regular AA Alkaline Batteries).
This Units Has All The Features Of A Full Sized DVR Including Time/Date Stamp Overlay, 3 Recording Quality Settings, Variable Frame Recording Rate From 1 to 30 FPS, Event Search Function (Property & 1st Image Of Selected File Displayed), Key Lock Function, Advanced Playback Function/Speeds & More.
With ALL these Advanced Features, You Can Still Use It To Record Your Favorite TV Show, Just Like A Regular Home DVR (Only Now You Can Take It With You).
Click Here For Additional Images & Users Guide 
Note: Increase PDF magnification to 125% for easier reading
Specifications
Auto Detection Of NTSC or PAL

Quality Level, High, Medium or Low

Manual, Motion Detection and Scheduled Recording

Frame Rate Max. 30 FPS (NTSC) / 24 FPS (PAL

AV IN/OUT

Video MPEG4 ASF File Format Supports 1 Channel Video/Audio Recorded Directly To The SD Card With FAT16/32

Time and Date Stamp Overlay

Storage On Secure Digital Card (Not Included)

Adjustable Sensitivity of Motion Detection

Power 2 AA Batteries (Not Included) Provides Approximate 3 Hours Recording Time

AC Adapter - 5V DC

Key Lock Function
Includes
Size: 2 1/2" x 3 1/2" x 1"; 3 oz (Without Battery Or SD Card)
          65mm x 90mm x 29mm; 89g (Without Battery Or SD Card)
If You Need A Surveillance Camera To Go With Your DVR, Click Here
E-mail a friend about this item.