Wired Color Hidden Video Camera - Wall Clock

Price:

$229.00

Retail: $350.00

You Save: $121.00

This item is in stock
Large Wall Clock Wired Color Hidden Camera 11 ½" x 11 ½" x 1"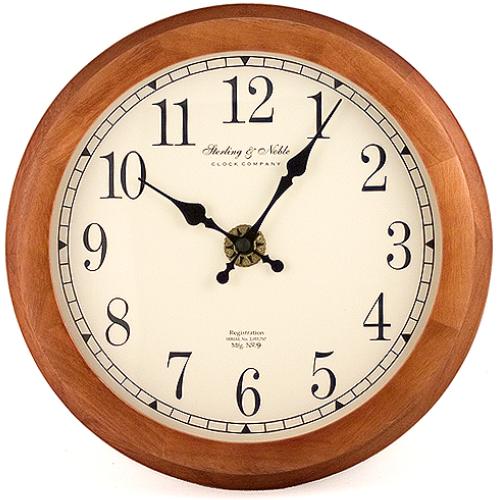 High Resolution Covert Video Camera
Dozens Of Models To Choose From
This Listing Is For A Hardwired Color Covert Video Camera Expertly Hidden Inside A Fully Functional Wall Clock. 
Just Connect The Unit To 110V AC Power. Plug The RCA Video Cable Into Any NTSC Compatible TV, VCR, DVR or Other Video Device. Provides Stunning High Quality Color Video.
Camera Specs:
NTSC Video Camera

1/3" DSP Color CCD Image Sensor

98 Degree Field Of View (Wide Angle)

3.6 mm Lens

400 TV Lines - High Resolution (Color)

0.5 Lux Minimum Illumination Rating

Automatic Gain Control

Automatic Back Light Compensation

RCA Video Cable Connection

110V 60Hz AC Power Input
We Have Dozens Of Wired, Wireless & Self Recording Cameras With B&W, Color & Low Light Cameras To Choose From. Our Wide Selection Insures The PERFECT Covert Camera For Every Surveillance Situation.
Our Cameras Are Hidden In Dozens Of Common Objects Found Most  Everywhere (i.e. Clocks, Lamps, Books, Radios, Etc.) Plus Numerous Body Worn Solutions (Hats, Handbags, Buttons, Sunglasses, Etc.).
| | | | | | | | |
| --- | --- | --- | --- | --- | --- | --- | --- |
| | | | | | | | |
Which Camera Style Best Fits Your Needs?
Hardwired Cameras Are Simple, Reliable & Inexpensive. Simply Plug The Video Cable From Camera Into Your TV Monitor, VCR or DVR.
Wireless Cameras Have Hidden Transmitters That Transmit The Video Image Up To 700 Feet Away To A Receiver. To View Or Record The Video, You Plug The Receiver Into Your TV Monitor, VCR or DVR.
Self Recording Units Have Both A Camera And Motion Activated DVR (Digital Video Recorder) Built-In. The Video Is Recorded On SD Memory Cards. The Video Can Then Be Played Back On Your TV Monitor Or Viewed On Your Computer. An All-In-One Solution For Covert Video Surveillance. Everything You Need Is In The Box.
Standard Or Low Lux Video Cameras
Standard 0.05 Lux Black & White Video Cameras Are High Resolution, Economical & Provide Better Low Light Performance Than A Similar (Standard) Color Camera. 
Standard 0.5 Lux Color Video Cameras Provide Excellent Quality Color Video At A Great Price. 
Powered By SONY ExView Cameras! Low Light 0.0001 Lux Black & White Video Cameras Provide Amazing Quality Video In Very Dim Environments. 
Powered By SONY ExView Cameras! Low Light 0.0001 Lux Color Day/Night Video Cameras Are Really Two Cameras In One. The Color Camera Performs Down To 0.05 Lux, Then Automatically Switches To Low Light Black & White Effective To 0.0001 Lux. 
Room Light Recommendation Chart
Camera:

Lux Rating: 

B&W

Color

.05 STD
.0001 LOW

.5 STD

.0001 LOW
Bright Sunlight
Yes
Yes
Yes
Yes
Typical Office Lighting
Yes
Yes
Yes
Yes
Family Living Room
Yes
Yes
Yes
Yes
Dark Bar / Lounge
Yes
Yes
No
Yes

Candle Light

No
Yes
No
Yes
E-mail a friend about this item.