Audio Jammer Defeats Listening & Recording Devices

Price:

$159.00

Retail: $240.00

You Save: $81.00

This item is in stock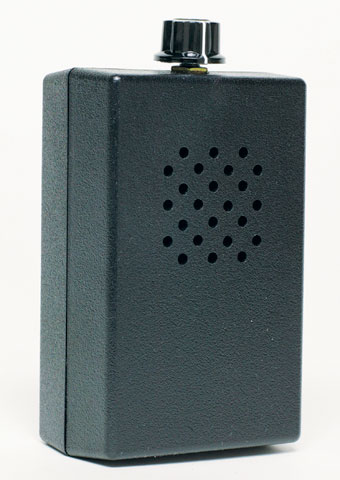 Audio Jammer Keeps Private Conversations Private
This Unit Effectively Disables Most All Listening & Recording Devices. All They Hear Is Static.
The Audio Jammer protects your sensitive room conversations by generating a random masking sound which desensitizes any near-by microphone.
Effective against any microphone based eavesdropping device including tape recorders, RF transmitters, hard-wired microphones (including contact type) and shotgun microphones. It also protects against microwave or laser reflection pickups.
"Laser Reflection Pickup" is the latest "rage" in surveillance. They simply point the laser at someone's window from up to a mile away. Your voice "vibration" in the glass becomes clearly audible to the spy. Place an audio jammer near the window and nothing comes back but static.
Laser Based Surveillance is almost impossible to detect. Because the sound from the Audio Jammer varies randomly in frequency and amplitude, it cannot be easily filtered and the only sound the eavesdropper will hear is the noise from the Audio Jammer. Note: The "white noise" sound generated is audible and not covert.
The Audio Jammer Effectively Protects a 150 SF area (approximately a 14' diameter circle). If your conversation is anywhere within this protected zone, you are safe from eavesdropping and recording. When negating Laser Reflection Pickups, just place within a few feet of the window(s). The entire room is protected.
The unit is small enough to easily fit in your pocket or purse. Just turn it on and you are protected everywhere you go.
Specifications
Protects up to 150 sq ft of space
End mounted control
Size: 4 1/2" x 2 1/2" x 1 1/2"
Includes
Audio Jammer
9V Battery
Illustrated instructions
E-mail a friend about this item.